Want to green your city and get a great deal? Bring home a TreeKeepers Holiday Tree!
TreeKeepers is a Greenest City 2020 program encouraging residents and businesses in Vancouver to plant trees on private property. Together we can help grow the urban forest and improve the environment.
We are now selling TreeKeepers Holiday Trees. These are four species of living evergreen trees in pots which you can bring inside to decorate for the holidays (7-10 days max, away from direct heat) and then plant outside in the yard or a balcony container. Prices start at $15 for the 5-gallon trees to $30 for the 10-gallon type.
What if you don't have room at home for an evergreen after the holidays? Choose the native Douglas-fir option and register to come plant your tree with us on Jan. 3 from 9am-noon in Everett Crowley Park. It's a family-friendly way to start the New Year off green!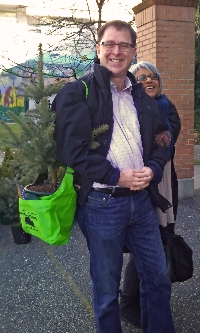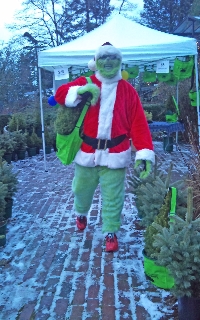 How to Plant a Tree in Two Minutes and 22 Seconds
How to Plant a Tree in two minutes and 22 seconds.
Did you just buy a container tree? This will help you get it into the ground and off to a great start.
Click For More Videos
What's Up
If you're planning to order a Holiday Tree for pickup Sunday, Dec. 14, 10-11:30am, please complete your order by Saturday, Dec. 13, noon. We need to load the truck Saturday to bring the trees to the distribution Sunday. Thanks for all the orders so far!
Come to Christmas on the Drive today Saturday Nov. 29 from 1-5pm to celebrate the season. Hit Santa up for presents, take a horse-drawn carriage ride and, to top it all off, order your TreeKeepers Holiday Tree! We'll have all four species on display.
(Continue Reading)

You may now order your 2014 TreeKeepers Holiday Tree! We have four species to choose from this year. Three are in 5-gallon pots for $15 and one is in a 10-gallon pot for $30. These are outdoor trees so after the festivities they should be planted in the yard or a balcony container. But what if you lack space? Choose the native Douglas-fir option and bring it to the New Year Planting Party on Jan. 3 in Everett Crowley Park from 9am-noon. Start the New Year off green by helping to grow the urban forest!
(Continue Reading)